Necromancer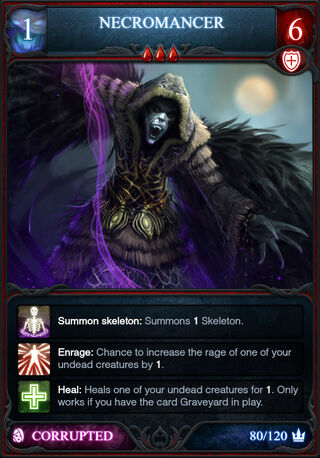 Necromancers can control the undead with their will, even make them rise from their graves.

Necromancer is a Creature in Nightbanes.
Abilities
[
]
The Necromancer's first ability is Summon Skeleton. It will summon one Skeleton Card into play every turn.
Its second ability is Enrage. It has a chance to increase the attack damage of one of your Undead Creatures by 1 for this turn.
Its third ability is Heal. It heals one of your Undead creatures for 1, but only if you have Graveyard in play.
How to get
[
]
You can obtain this Card from the Base and Base Light Booster and the Empty Graves Deck.
Strategy
[
]
The Necromancer is especially powerful with a Graveyard Card, as the Skeletons he summons also benefit from it. Equip him with a sturdy Armor to increase the time he can summon skeletons, or a Necromancer's Cloak to further support your Undead creatures.