Osdraconis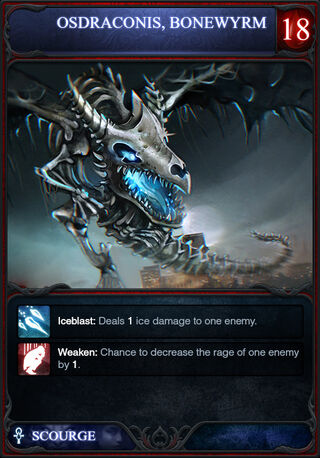 | | |
| --- | --- |
| Location: | Crows Hill Cemetery |
| Type: | |
| | |
| | |
| Reward: | ?? |
| Loot: | |
Osdraconis is a massive bone-dragon with a freezing breath.
Osdraconis is a Scourge in Nightbanes.

Strengths
[
]
Osdraconis is the Final Boss in the Crows Hill Cemetery region. His most powerful ability is Iceblast, on Level III he will deal 1 Ice Damage to one of your creatures every turn. Osdraconis' Deck consists mainly of Undead creatures, most of them with Ice Damage, and many with Flying abilities.
Strategy
[
]
Osdraconis is easily countered with the Iceward ability, as most of his damage is Ice. For this purpose you can Farm Reputation in the Area (Corrupted Morphling III gives most Reputation other than Osdraconis itself) and buy one or two Shadowfrost Demons in the Faction Reward Shop. Shadowfrost Demon's Iceward negates most of Osdraconis' damage, while bypassing the powerful Crypt Wight's Resilience ability due to it's Ice damage, as well as the spectre's Flying ability with his abilities - the perfect counter.