Skeleton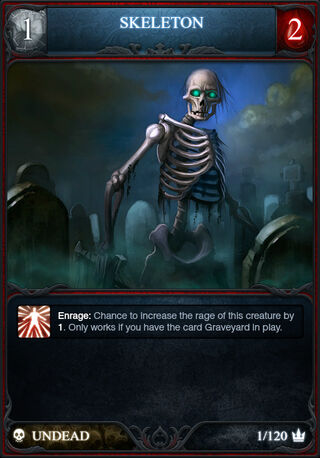 A Skeleton. Dead and Boring.

Skeleton is a Creature in Nightbanes.
Abilities
[
]
The Skeleton's first ability is Enrage. It has a chance to increase the Skeleton's Rage by one, but only if you have the Location Graveyard in play.
How to get
[
]
You can find this Card in the Base and Base Light Booster and the Empty Graves Deck.
Strategy
[
]
As Skeletons have no Bloodlust Counter, they attack the turn they enter play. This makes the Skeleton a certain 1-damage creature (unless the opposing monster has Toughness or Resilience).
In combination with Graveyard Skeletons become surprisingly strong with 1-2 Rage and 3 Health, and if you also have one or even several Necromancers in play, you can build a terrifying army in no time.